Doing exercise when you're overweight can be really tough, especially when you just don't know where to start.
Many people don't consider yoga as a legit way to lose weight. They just think it's for stretching and hippies.
But they are wrong…
It has been scientifically proven to be one of the best forms of exercise to lose weight.
This page will explain exactly why yoga is so good for weight loss and the best 5 beginner yoga poses for plus size women.
---
Benefits of Beginner Yoga Poses
There are so many benefits of doing regular yoga.
But if you're anything like me you probably worried about doing this…
You're probably aware that yoga is great for improving flexibility.
But it has more benefits than that (no putting your legs over your head and smashing your face on the floor is not one):
Building lean muscle and strength (muscle uses more calories than fat)
Increases your metabolism (meaning you continue to lose weight throughout the day)
Reduces stress levels (high cortisol levels reduces metabolism)
Improves digestion
Reduces headaches
Improves sleep (1 of the 7 steps to lose weight fast)
Here's the truth…
Reducing stress is a great way to lose weight fast. Yoga helps you to do this but other forms of strenuous exercise (like running) has the opposite effect.
This is the reason that when you have used tons of will power to go to the gym for a month or go for a run in the cold it seems to have no impact.
Because it has a negative impact on other important weight-loss areas.
---
How to Use These Yoga Poses For Plus Size Women
These are the 5 best beginner yoga poses for plus size women.
They are perfect because they are key poses to improve flexibility and strength to ensure you can move onto other poses in the future.
However, they are safe enough for any beginner yogi and can be adapted to suit anyone.
Yes, I said it…
Anyone!
Make sure you check out each video and the tips to ensure your form is correct. If any pose is too hard or easy there are variations you can try.
Feeling a stretch or tension in your muscles is fine. But acute pain is not.
Enjoy…
---
1. Cow/ Cat Pose (Marjaryasana/Bitilasana) 
Well-Fit tips:
Place your hands directly under your shoulders
Make sure your hips are above your knees
Breathe into the stretch along your spine
Pull your belly button to your spine for the cat pose & tuck your chin to your chest
Drop your belly and lift your chin for cow pose
---
2. Table Top Crunches (Bharmanasana)
Well-Fit tips:
The tabletop position is the same as the cat/ cow pose- shoulders above hands and hips above knees
Reach one arm forward and the opposite leg back
Imagine someone was pulling your leg and your arm to really engage them and fully extend them
Keep your core engaged and pull your belly button in towards your spine
How to make it easier: Move your leg and arms separately
How to make it more challenging: Hold the pose when you are extended for 10 seconds plus!
---
3. Chair Pose (Utkatasana)
Well-Fit tips:
Engage your legs by pushing your inner thighs together
Imagine you are going to sit on a toilet to bend your knees (don't push your knees forward)
You should be able to see your toes in front of your knees if you look down
Engage your arms but relax your shoulders
How to make it easier: Stand up a bit taller
How to make it more challenging: Sit a bit lower
---
4. Standing Forward Fold (Uttanasana)
Well-Fit tips:
Bend your knees!
Reach forwards with your chest… once your lower back starts to curve then you can relax your chest and head towards the floor
Take hold of your arms and use any movement that suits you
How to make it easier: Use blocks or a chair to support yourself with your hands when you lean forwards
How to make it more challenging: Add a "halfway lift"- straighten your back and place your hands on your shins or thighs
---
5. Bow pose (Dhanurasana)
Well-Fit tips:
Take one leg at a time to start
Aim to lift your feet & chest towards the ceiling
Remember to keep breathing into the pose
How to make it easier: Only perform with one leg at a time
How to make it more challenging: Hold the pose for 30 seconds
---
Yoga Poses For Plus Size Women Summary
So there you go.
The best 5 beginner yoga poses that anyone can do.
Yoga is one of the best exercises to lose weight for so many reasons.
Make sure you take your time with each pose and experiment for what works for you. If you can take 5 minutes a day to practice these poses daily you will see results far quicker than someone who tries to perform loads of yoga one day a week.
Create that habit and lose weight fast.
Be sure to pin this page so you can come back to it any day of the week.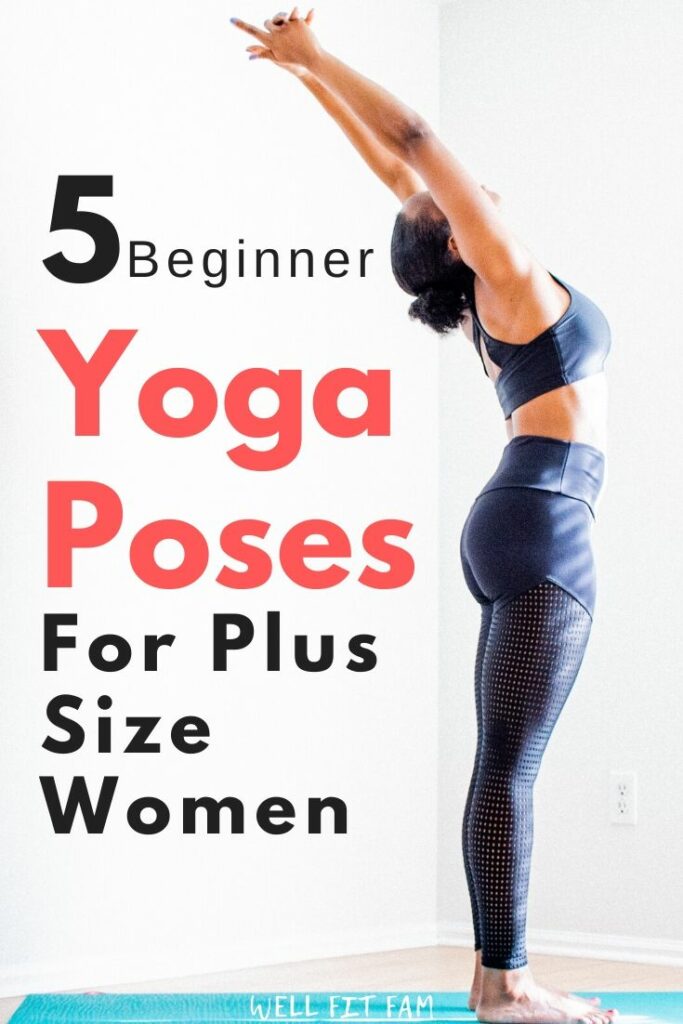 P.S. Check out 23 yoga poses to lose weight quickly if you are looking for a yoga workout.