Are you too busy to find time to exercise?
In today's busy world it can seem impossible to find time to keep in shape.
But did you know you don't need hours each week to see big changes in your body and energy levels? Just 5-10 minutes a day of the right kind of exercise can be more beneficial than hours of "jogging".
The rest of this page will show you 11 simple weight loss morning workouts that you can do without leaving the house!
---
Why should you work out in the mornings?
If you're like me you probably feel like this in the morning…
However, did you know there are some serious benefits to doing exercise early doors?
Here are just a few of them:
Increases metabolism (meaning your body carries on burning more calories for the rest of the day!)
Increases physical & mental energy for the day
Improves self-discipline
Helps you sleep better
Reduces stress levels
Even without taking any of these benefits into account, here is our number one reason to exercise in the morning:
It's the best time to make it a habit.
If you have any desire to lose weight, you have to make good habits.
Did you know that 95% of our life is run by habits?
That means the vast majority of life we are not actually deciding what to do. We just do what's "normal".
If you exercise every morning you won't let other things to get in the way i.e. being too tired to move after work, cooking the dinner for the family or the X-Factor final being on!
It sounds weird, I know… but a mini workout in the morning will actually wake you up!
---
What should your morning workouts consist of?
So now we know that we should exercise in the morning.
But what the hecky mo should we actually do?
The whole point of Well Fit Fam is to make living a healthy life as easy as possible.
It's far easier to exercise in your own home than going to the gym or forcing yourself to run in the freezing cold outside.
It can feel impossible to just think of exercises you can do though. And no one wants to do 5 minutes of jumping jacks. It's boring!
All of the weight loss morning workouts below involve a few minutes of high-intensity interval training.
It is scientifically proven to be the best way to burn calories and see maximum weight loss benefits if you are on the go and don't have enough time to exercise.
---
Best 11 Morning Workouts to Lose Weight
The best thing about these exercises is that you don't need any equipment.
You don't need some special personal trainer to do them and you don't need more than 10 minutes!
You're probably thinking… is there any point in doing a 5 minute weight loss morning workout?
YES!!
It's infinitely better to do a 5 minute HIIT than nothing!
More importantly than anything else, it's helping you form that habit.
Feel free to pin the exercises so you have a variation of workouts you can do on different days to mix it up and keep them interesting.
---
1. Good Morning 8 Minute Workout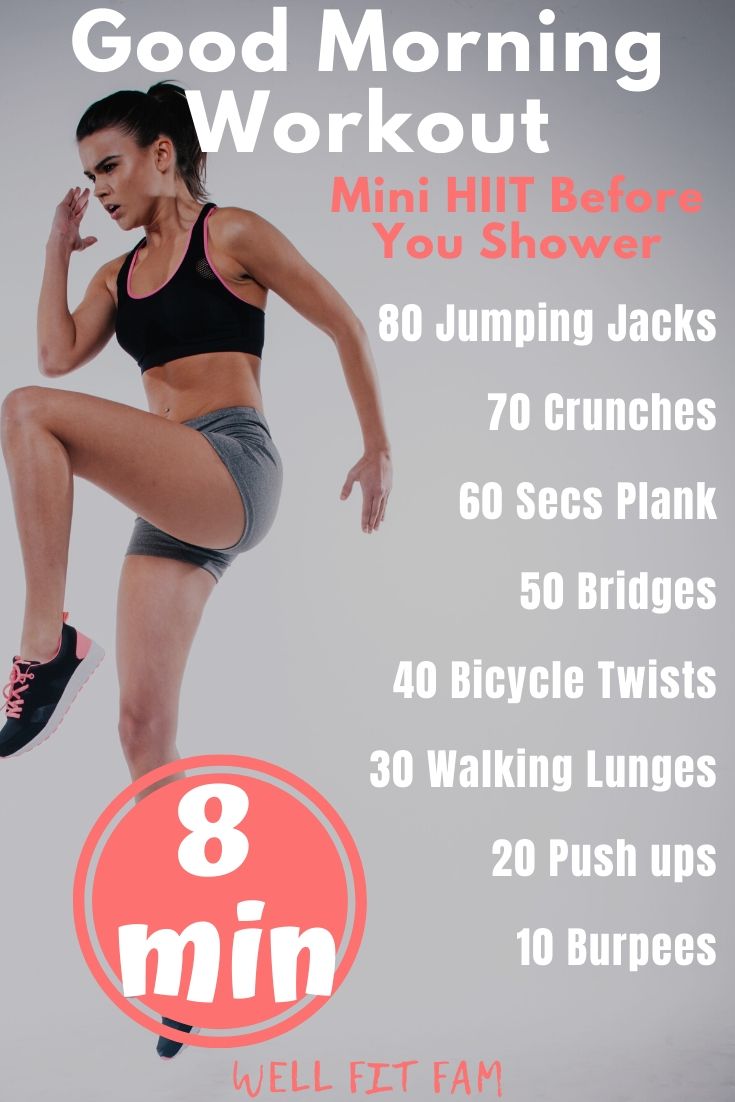 This is a great workout to do before jumping in the shower each day.
The most important thing to do is to make sure you are working at a high intensity for maximum benefits. You can give yourself 10-15 seconds rest in between each exercise, but the aim is to keep your heart rate up for the full 8 minutes.
---
2. Rise & Shine Workout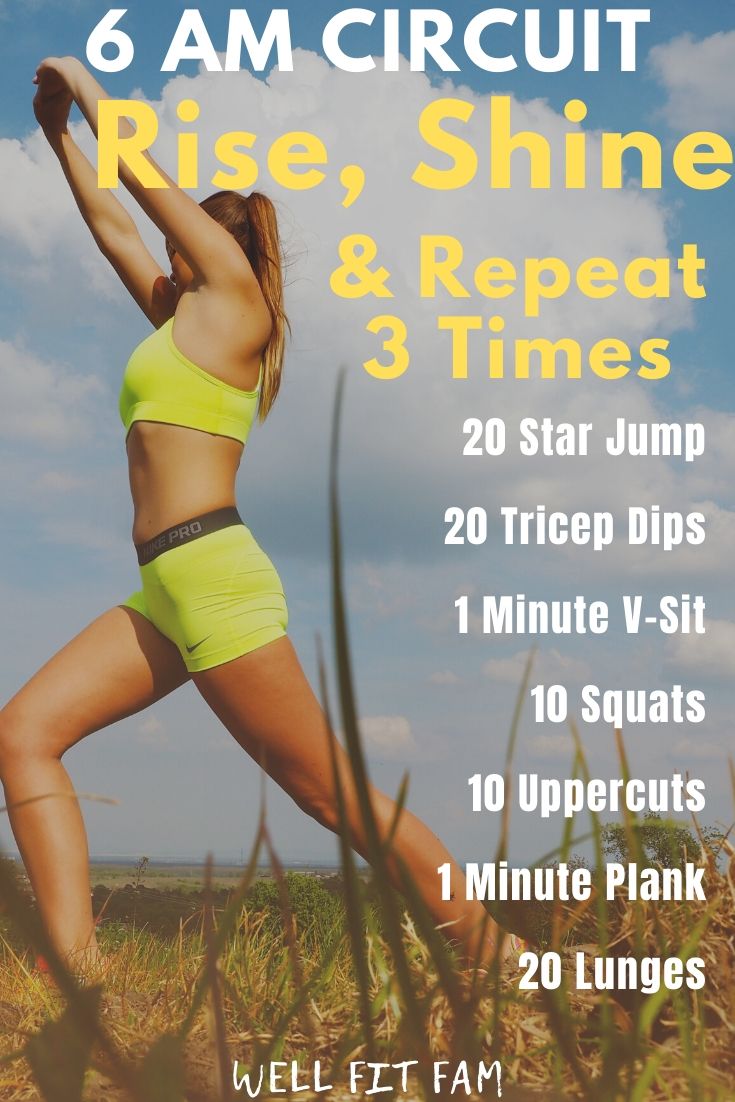 Make sure you have your workout clothes at the ready for this one!
Repeat the set 3 times and give yourself about a 30-second rest in between each set. 10 minutes is all you need!
---
3. Quick Morning Workout for Weight Loss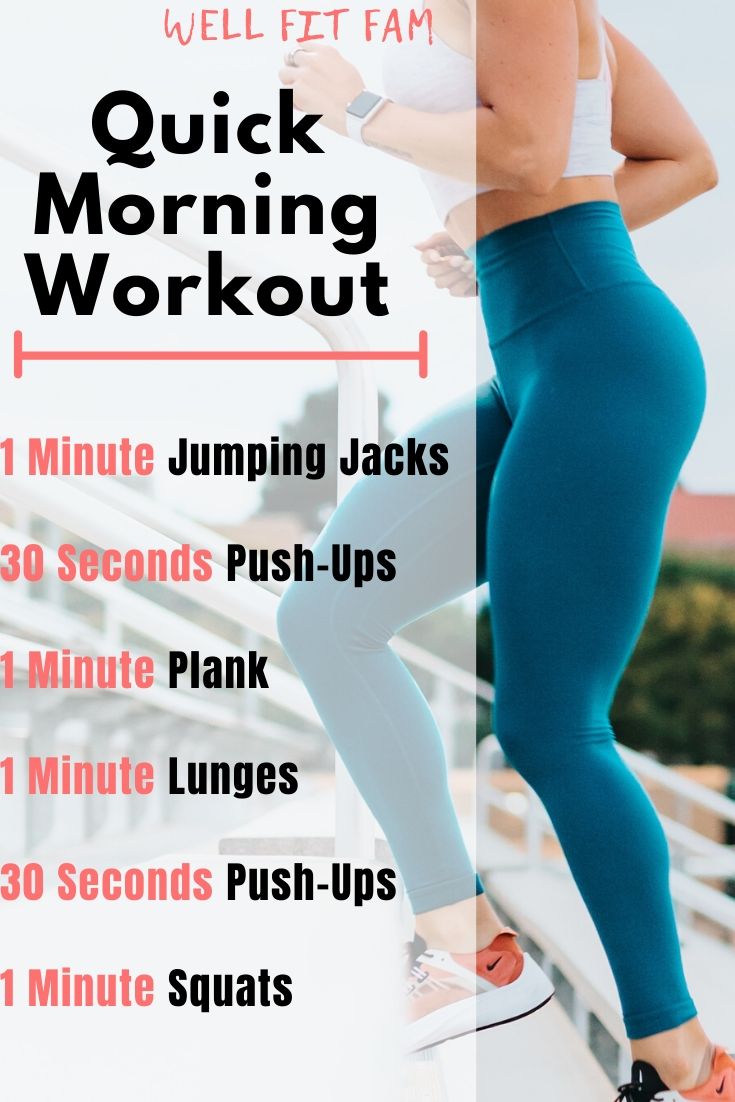 This workout is great for improving that upper body strength as well as your core muscles.
Your core muscles will help you be able to perform more exercises for longer more than any other muscle group.
---
4. 5-Minute Weight Loss Morning Workout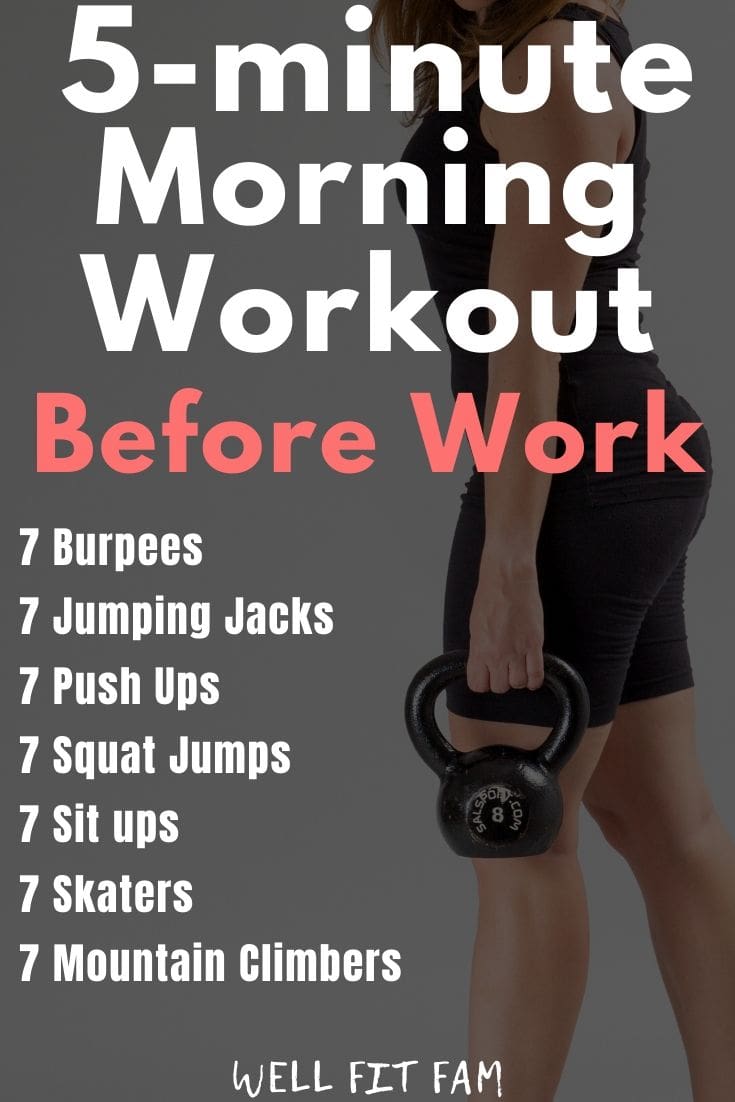 This 5-minute workout will get your heart rate up more than you realise!
No need for any rest in this one, do 7 exercises and then move onto the next.
Set a stopwatch next to you and keep repeating if you finish before 5 minutes.
---
5. Before you shower mini-workout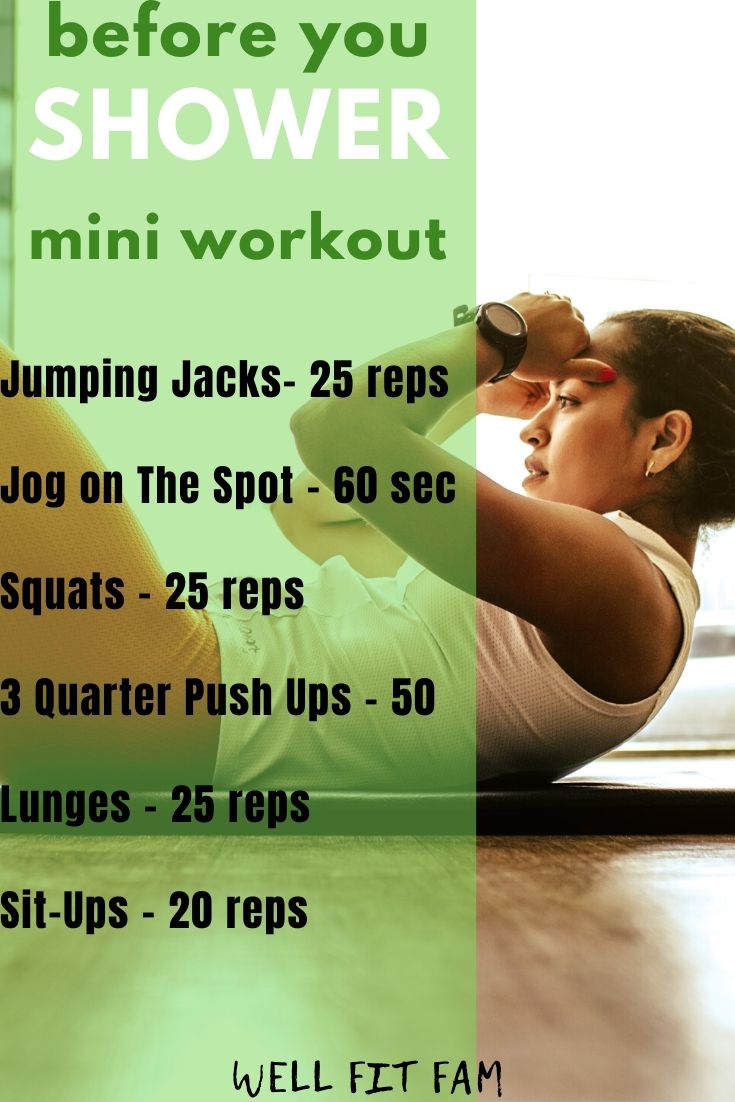 You may need some rest breaks for this workout!
50 push-ups of any kind are not easy! But this is so possible!
You can split the push-ups into 2 sets of 25 if you really struggle but this workout can help you see huge results within a few weeks.
---
6. Early morning workout that will give you energy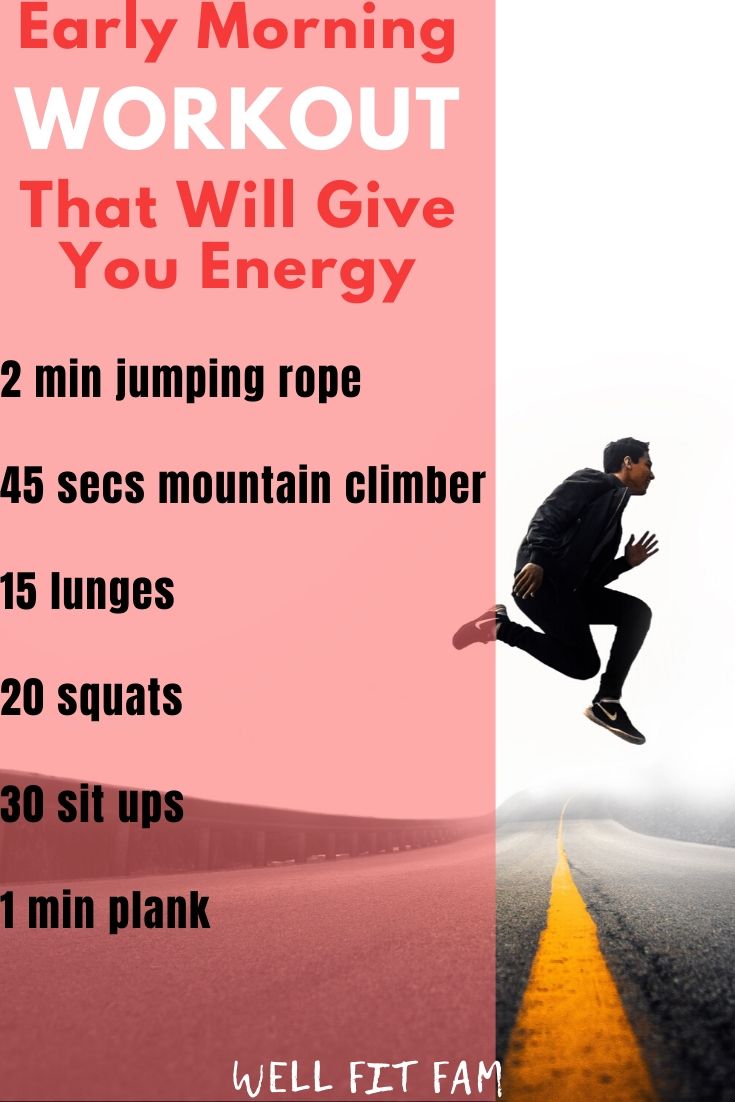 Another complete full-body workout.
The start of the routine will get that heart rate super high. Finishing with the plank is a great way to engage those core muscles. If you cannot hold the plank for one minute, then set a timer for a minute and hold it for as long as you can. If you need a rest start again as soon as you can.
Doing this for a couple of weeks will honestly mean you can hold a plank for longer than 1 minute in no time!
---
7. Wake-up warm-up 5-minute energizing workout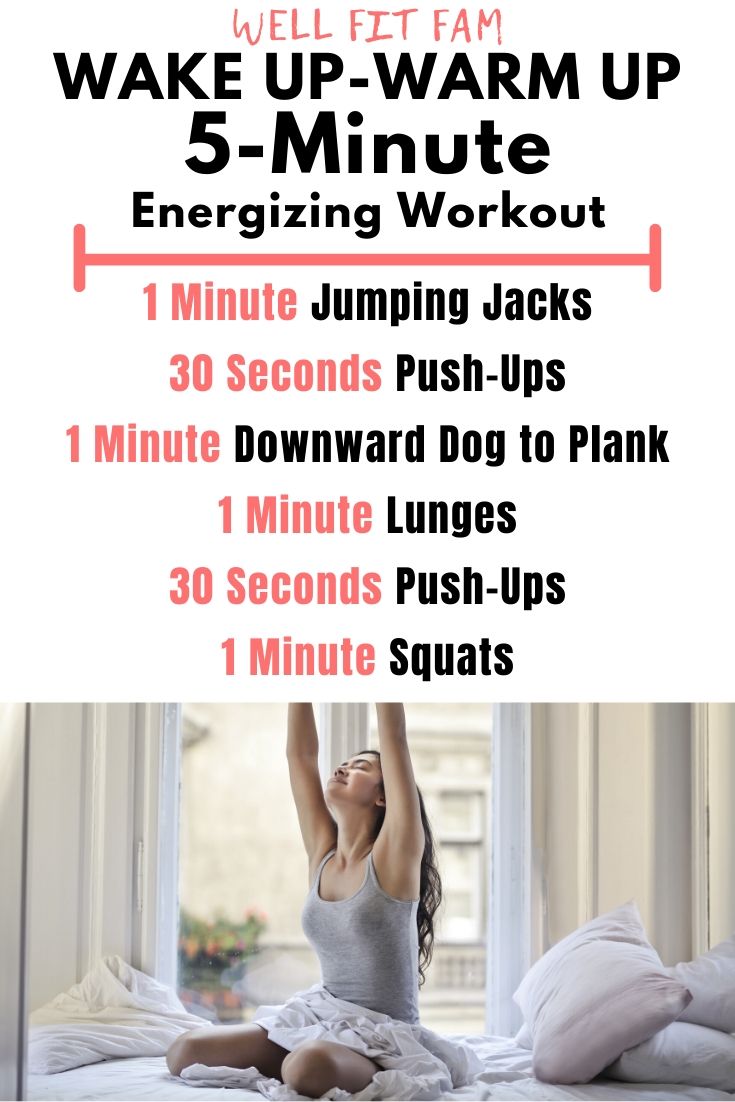 This is a great workout that combines a bit of yoga into a HIIT session.
2 of our most highly recommended types of exercise to lose weight quickly.
---
8. 5-minute abs workout at home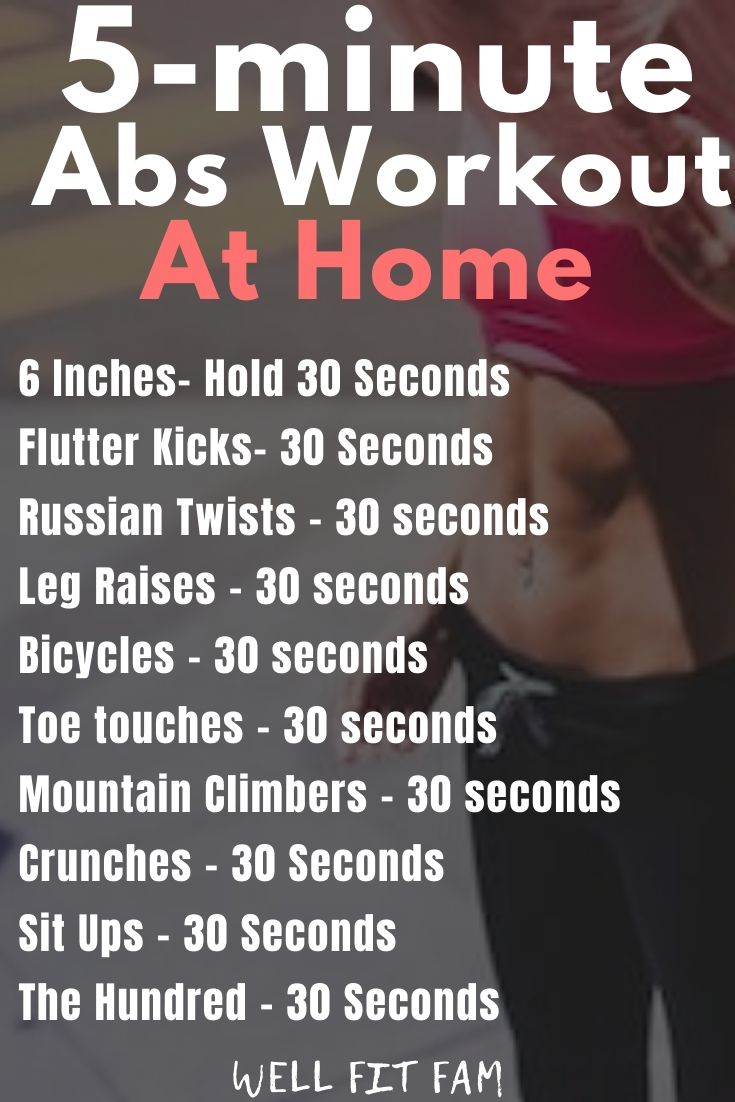 One of our own specialities.
You can check out 5-minute abs workout to see more detail about this whole workout. Improving your core strength is one of the best ways to see quick results in your overall fitness and energy levels.
---
9. The everyday wake-up workout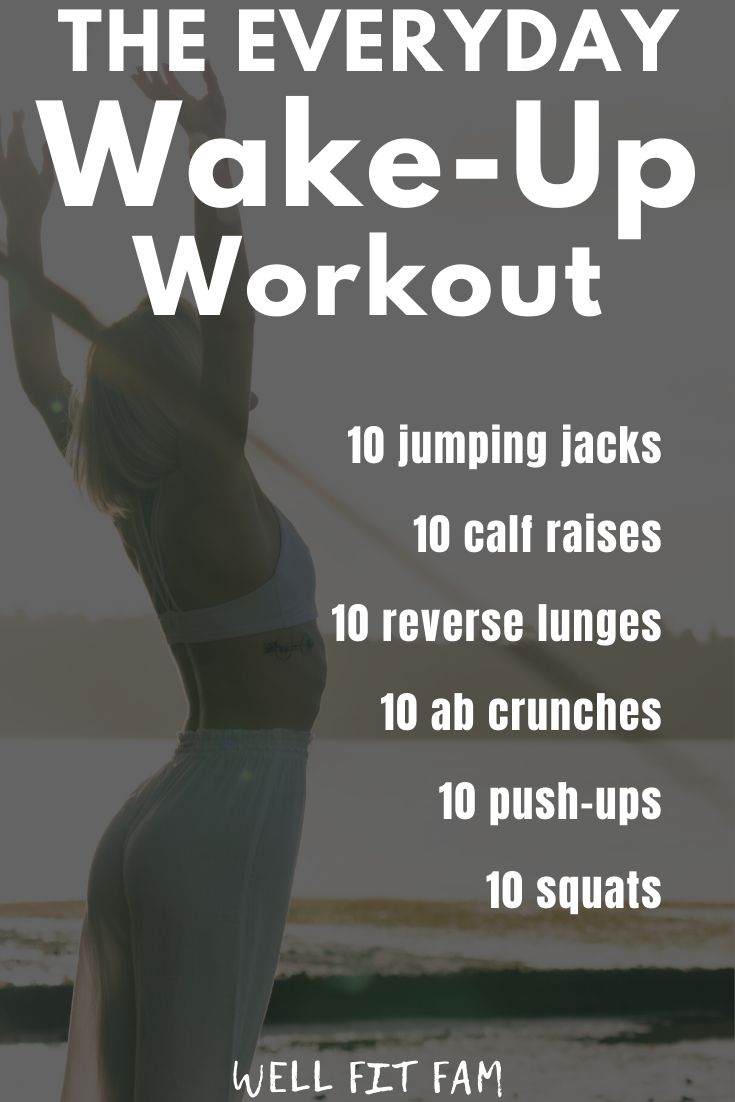 If you could only choose one workout to perform every morning it would be this one.
It covers all the muscles in the body and is super simple to remember. We recommend completing about 3 sets of this to see the best results.
---
10. Early morning circuit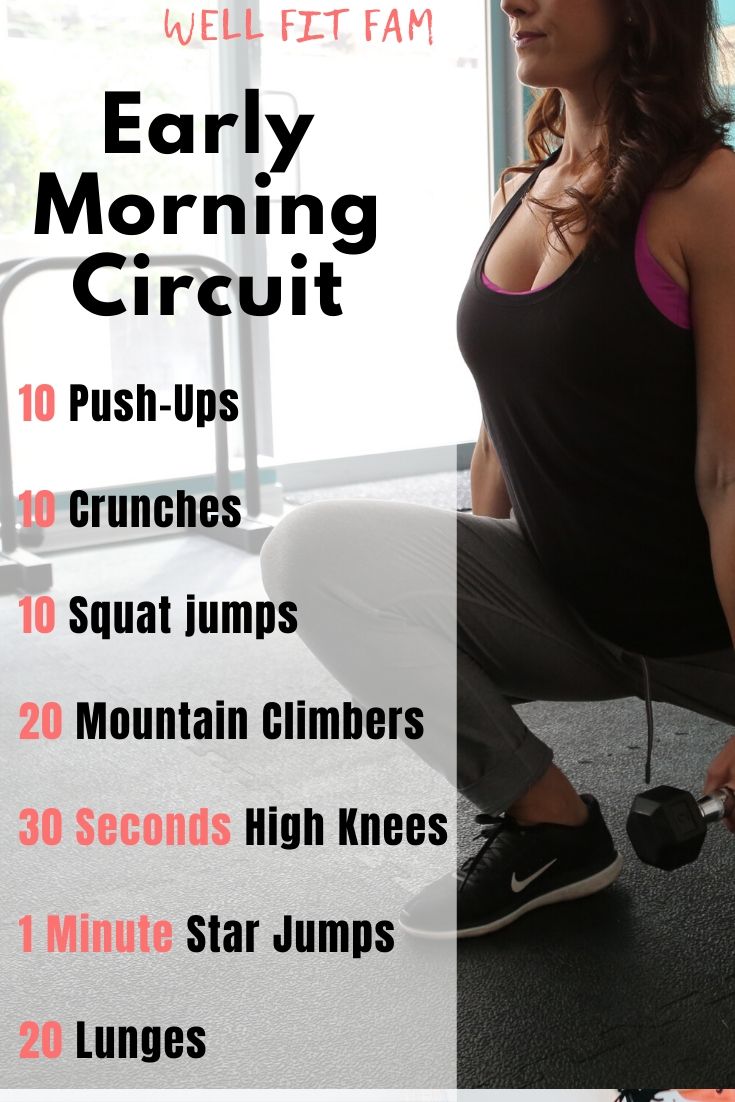 Another great full body workout to lose weight quickly.
Super simple to do at home and a great one to perform multiple times a week.
---
11. 5 minute morning workout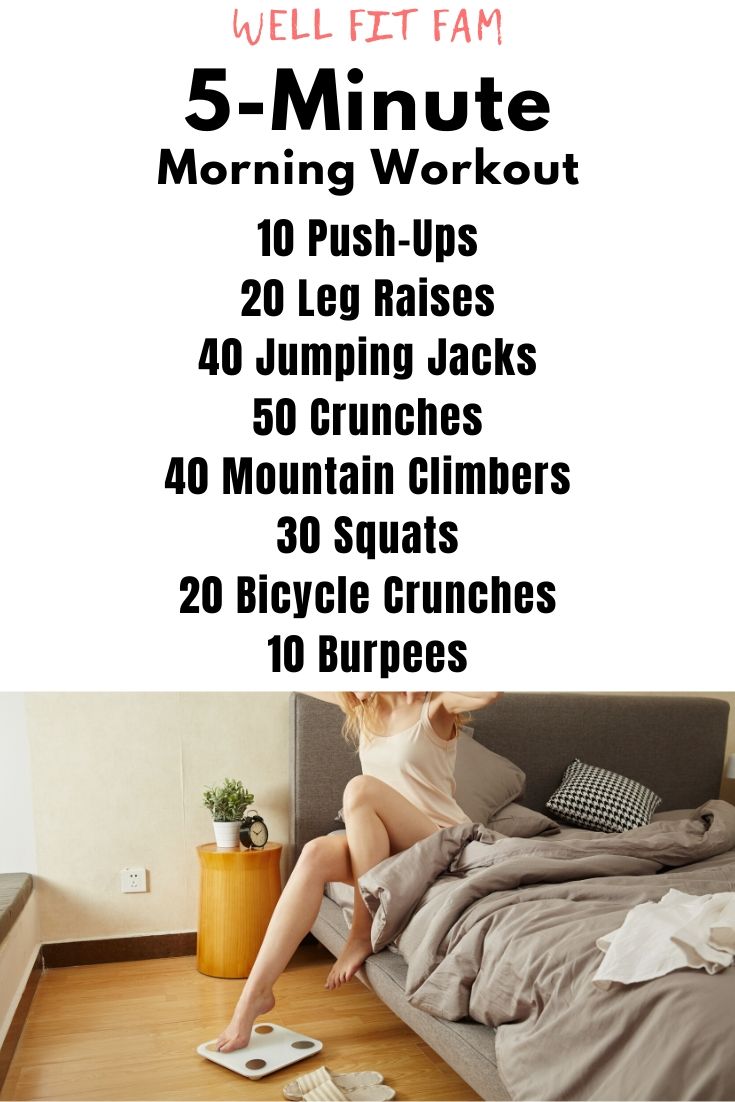 5 minutes is the perfect amount of time to form the habit of morning exercise.
It seems so short that you may think it's not worth it. But 5 minutes has been proven to be better than a 1-hour workout once a week.
The reason we love it is that it helps to form a habit.
We love habits!!
---
Well Fit Fam Morning Workout Tips
If you are not used to working out in the morning, it will feel hard to motivate yourself to do this at the start. Believe me, I know!
But there are some things you can do before the morning to give yourself the best chance of actually doing it.
Have your workout clothes & trainers ready (I know some people that even sleep in them!)
Make sure you have the space ready to do the workout. If you need to move furniture, make sure to do this before you go to bed (ideally set up an area in the house that you can always use)
Pin these exercises to a special Pinterest board so you have them ready and don't need to spend ages finding them (some people may prefer to print them out)
Have a stopwatch (or your phone… but don't get distracted) at the ready
Know what all the exercises are! If you're not sure what an exercise is, give it a quick YouTube to check (most exercises are pretty generic ones)
Once you have done this for a few weeks, it will start to become a habit.
This is when you get the most benefits as your brain will start doing it on autopilot and it won't use up any will power to carry on doing these weight loss morning workouts!
---
Weight Loss Morning Workouts Summary
So there you have it.
11 weight loss morning workouts that you can start using tomorrow.
Remember the workout doesn't have to be long to be effective. Creating a habit is the sneaky cheat for making losing weight easier than 1,2,3.
Make sure you pin each workout so you can access them any time.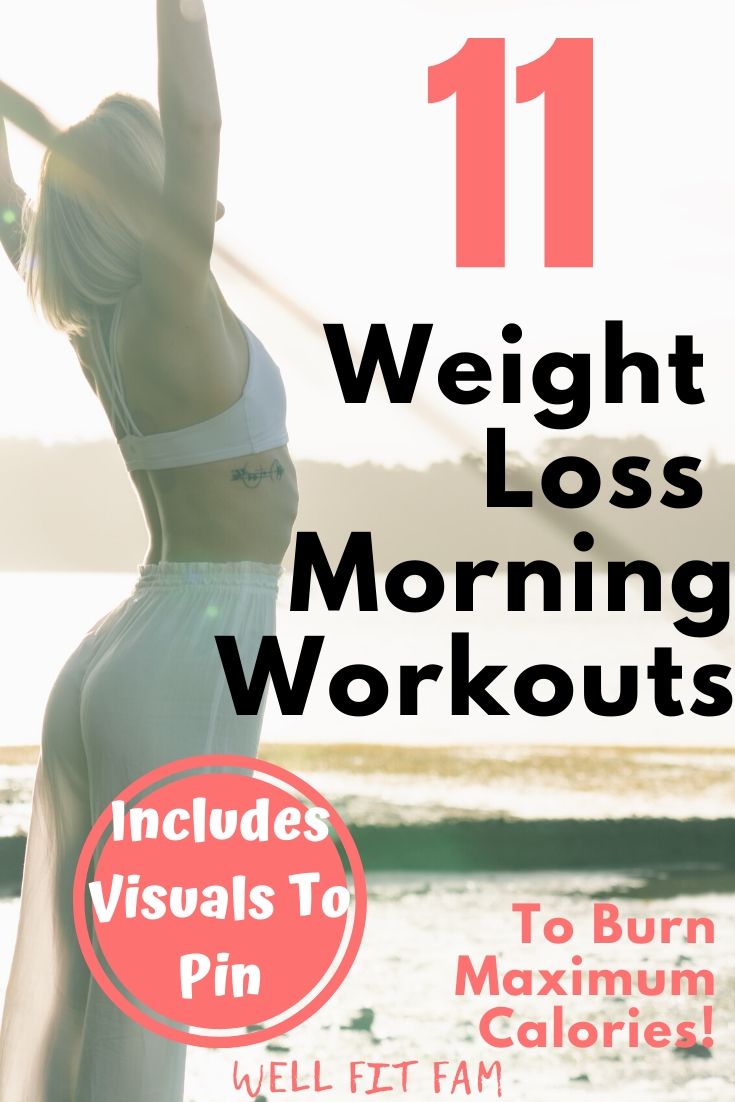 If you want to see more types of exercise then check out some of our other popular articles: